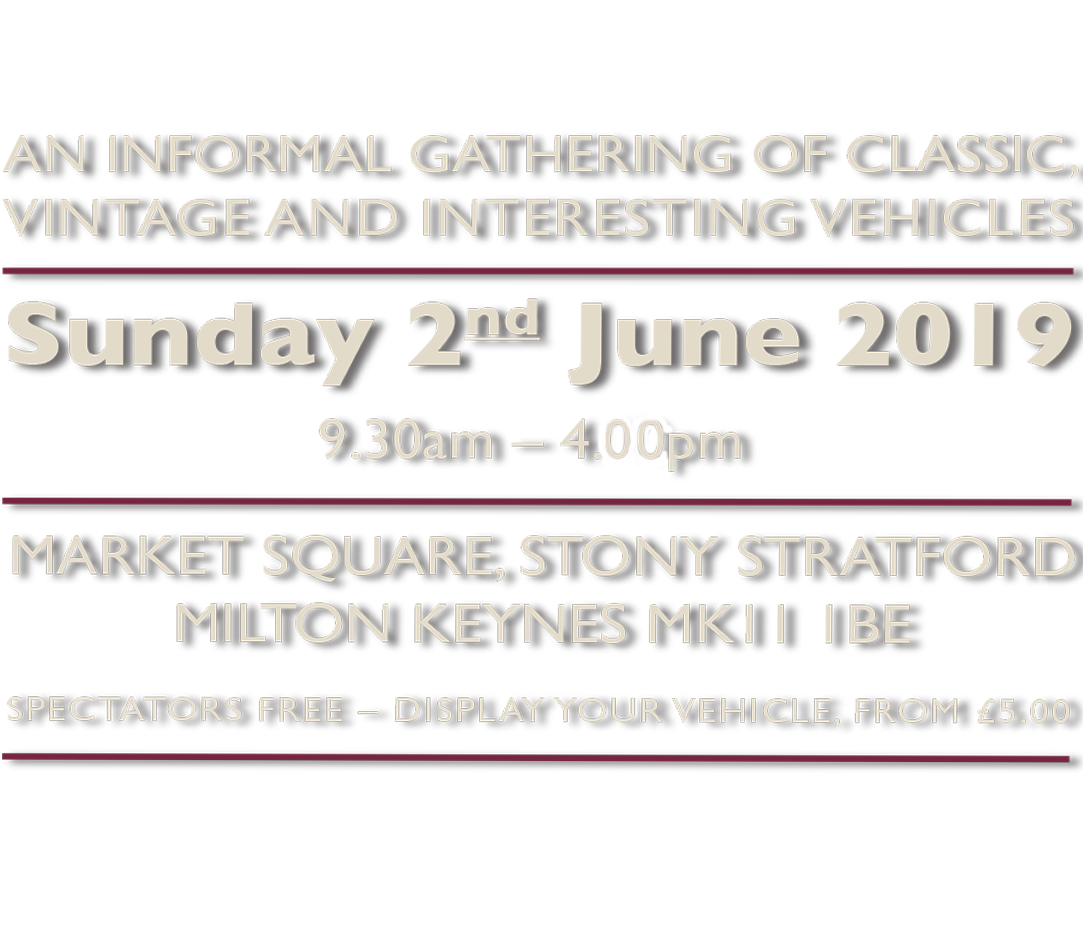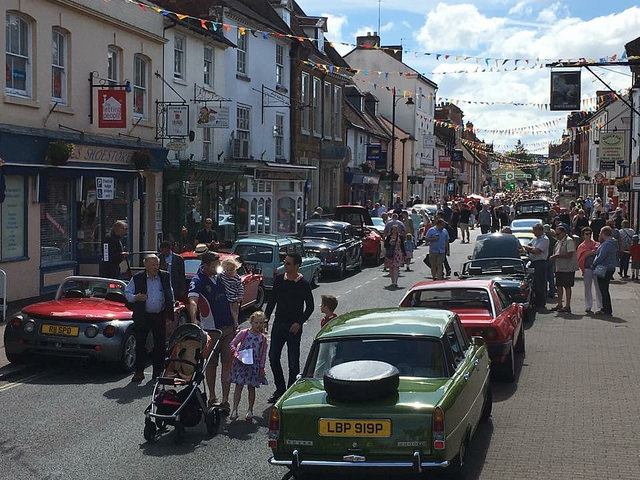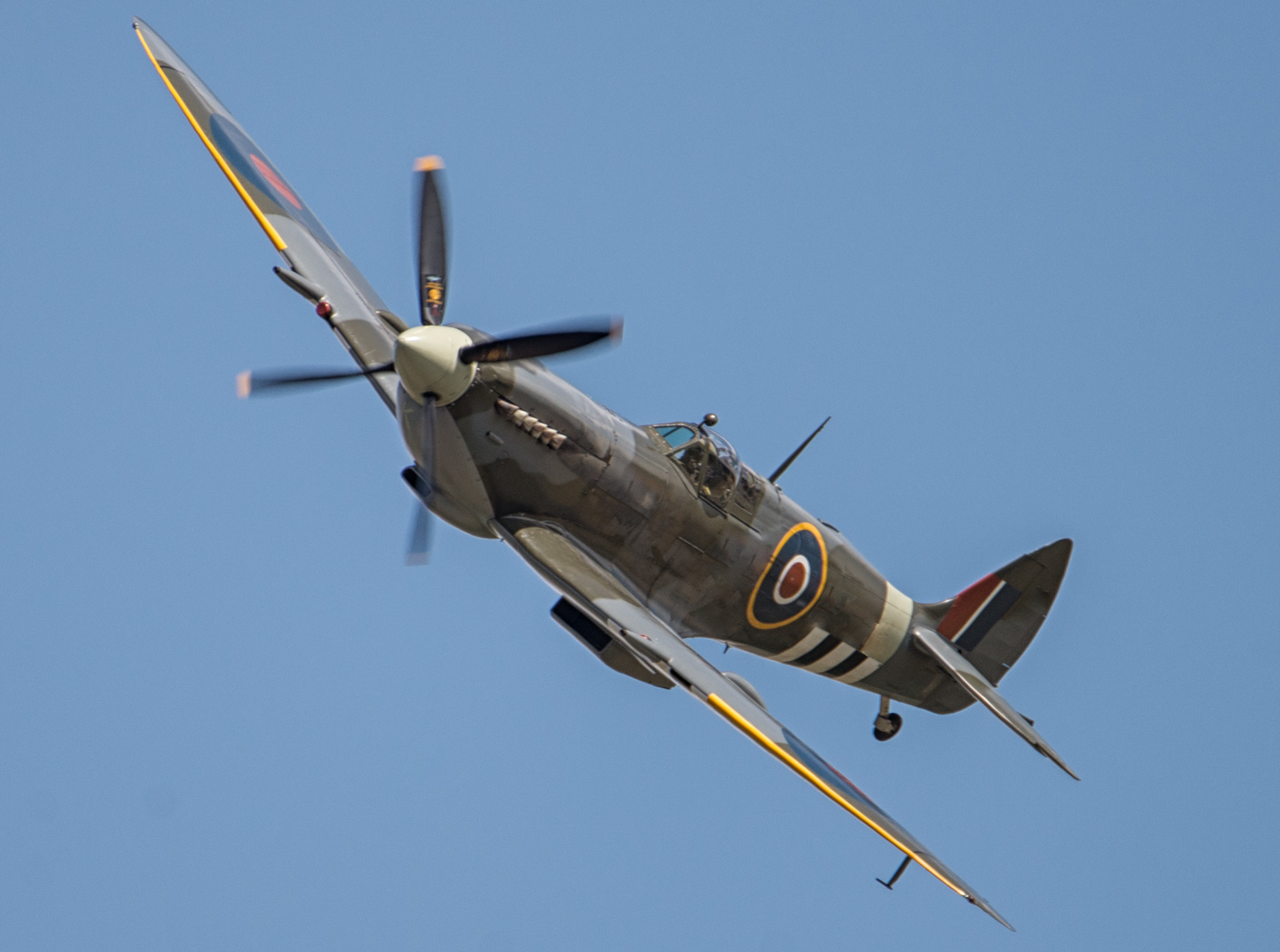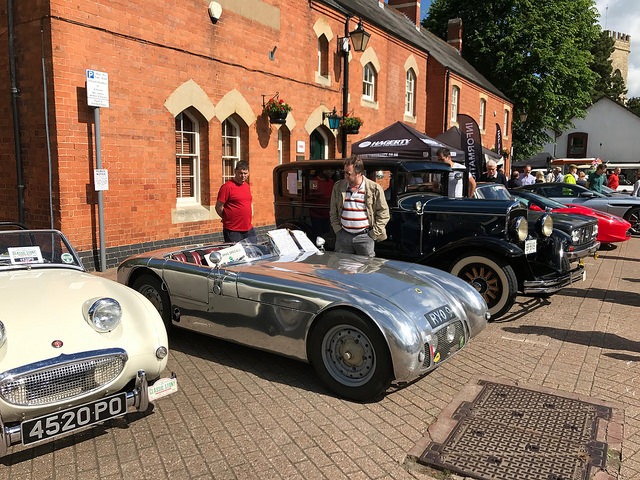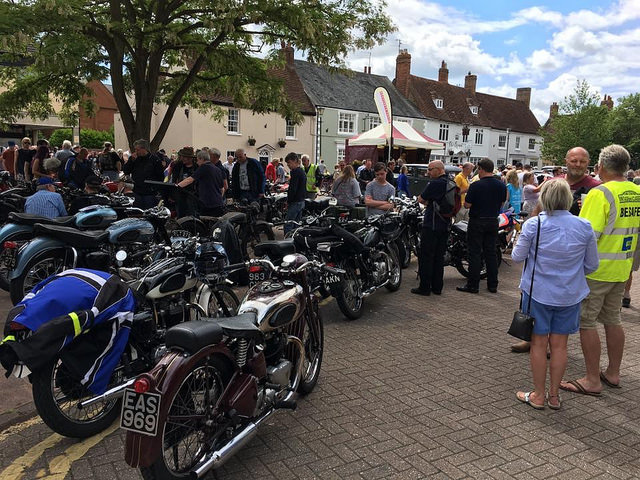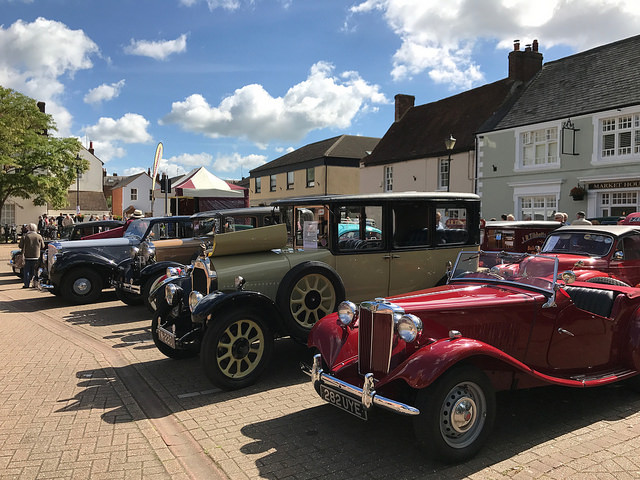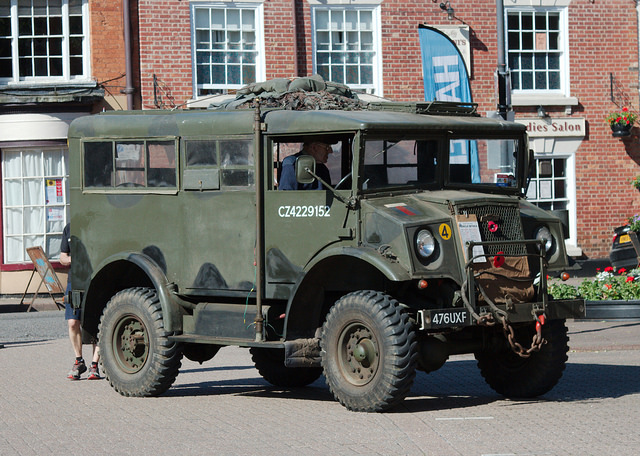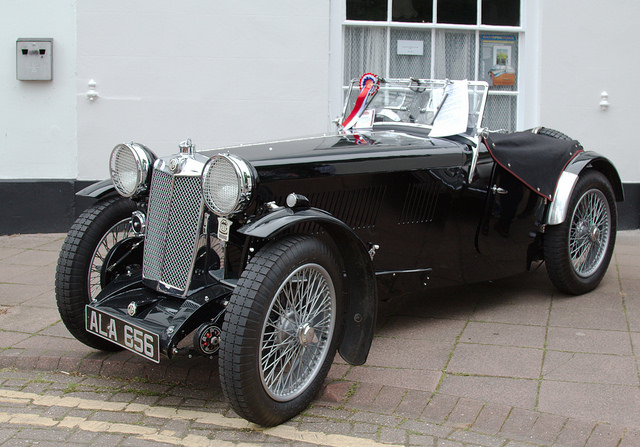 Stony Stratford is the 'Jewel in the Crown' of Milton Keynes.
Located on the Roman Road, Watling Street and the site of an ancient ford, for hundreds of years this historic market town has offered hospitality to the road weary traveller. Travellers today will find to their delight, many fine hostelries and restaurants and places of interest, nestling in this place of good cheer.
The Stony Stratford Classic Car Festival – now known as 'Classic Stony', has grown in stature over the years and now attracts an incredibly varied display of vehicles from concourse to 'well used'.
Run in partnership with Stony Stratford Business Association, as part of 'Stony Live week', this is an informal gathering of classic and vintage cars and motorcycles. The Market Square stage will host Live music throughout the day.
The event runs from 9:30am until 4.00pm. Spectators are free but the event is run in aid of Willen Hospice so there will be opportunities to donate to this incredibly worthy cause.
The event's historic success has now drawn the good people of Stony, restaurateur, shopkeeper and publican alike to throw open their doors and join the revelry. So come and join us, wander the displays, take in the sights, have a picnic by the river and enjoy the day.
We look forward to seeing you there.
Photo Gallery
To view pictures from previous SSCCF and Vintage Stony events please go to the following:
---
What the press say.
Visitor Information
Visitors to the event are requested to please use the public car parks. An Information leaflet can be obtained from the Information tent on the Market Square.
Google Maps provides greater detail of the area and a helpful route finder. Alternatively, you can set your sat-nav destination to the Market Square, Stony Stratford, MK11 1BE (note: this is the Show Area, car parking is situated nearby so please use this location only as a guide). A warm welcome awaits you in all of Stony Stratford's restaurants, coffee shops and watering holes.
Those visitors interested in the local history may wish to take a stroll on the official Stony Stratford town walk – a guide leaflet will be available on the day.
Stony in Bloom. Something for the less petrol headed – 'Stony in Bloom' volunteers will be organising two free guided walks around their RHS gold medal winning flower beds. Starting at 10.30am & 2.00pm. Meet outside The Crown in the Market Square (1.5 hrs). Please register your interest by emailing:
---
Find Us
(click to enlarge)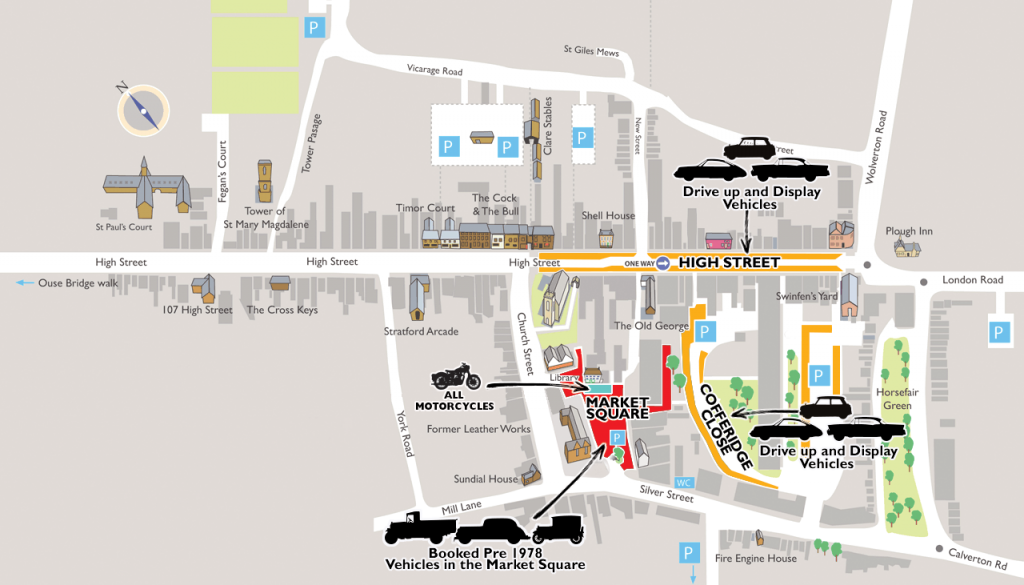 ---
DURING THE DAY
Vistors might be interested to know there is award presentation in the market Square at 2.30
This year they will be in the following categories:
Best of Show
The Best of British
Best Saloon
Best Sports car
Best Motorcycle
Best Restored Motorcycle
Spirit of the Show
---
Displaying your Vehicle
The general rule of thumb is that all display vehicles should be 25 years old or older i.e. 1993 or earlier.
'Supercars' and other interesting/unusual vehicles are also welcome.
If you are uncertain as to whether or not your vehicle is 'eligible', please contact us at [email protected] – we will be pleased to hear from you.
---
CHOICES
You basically have some choices
Drive up and display – on the day 'ALL vehicles cars and motorcycles' – suggested minimum donation £5 on the day (vehicles must be registered before Jan 94)
or
Book– reserve your 'car' spot – suggested minimum donation £10 in advance (must be registered before Jan 78)
and
this applies to 'Motorcycles' as well – suggested minimum donation £6 in advance (must be registered before Jan 78)
see below
---
 DRIVE UP AND DISPLAY
This is exactly that – arrive on the day.
Cars Park in either Cofferidge Close or the High Street.
'Motorcycles' head to the Market Square – marshals should be hand to assist/direct (ALL vehicles should be 25 years old or older i.e. before Jan 94)
• One of our volunteer marshals will be on hand to greet and direct you on arrival. They will:
present you with a Hagerty Goody bag (while stocks last),
politely ask for your £5 donation (on behalf of Willen Hospice) and direct you to the available spaces.
• When safely parked, please fill in the registration and information cards (inside the Hagerty goody bag), place the 'information card' in a viewable position in/on your vehicle for our spectators' convenience and drop your registration card into the information tent* on the Market Square (or hand to marshal).
*Perhaps a good time to consider buying a Classic Stony Limited Edition enamel badge – only 100 made so 'when they're gone they're gone' – or a collector's rally plaque, potentially available after midday, again very limited numbers.
SEE GUIDE BELOW
---
 BOOK

– BOOKING FOR (Market Square) 2019 
 (all funds go directly to Willen Hospice as before).
Individuals that have booked will be will be be able to download their 'all important event pass' (again, from www.carfestivalbooking.com)
– Verified bookings will entitle you to a collectors 2019 Classic Stony rally plaque (Please collect this on the day, from the information tent on the Market Square, we would ask you to take your Classic Stony event pass as proof of entitlement).
– Booking will be open to owners of cars or vehicles that require a car sized space (minimum donation £10) and motorcycles (minimum donation £6.00).
– Limited spaces and all vehicles must be registered before January 1978.
On the day
Pre-booked vehicles are to head for the Market Square
Booked motorcycles should head for the Market Square and park up in front of the chemist; marshals will be on hand to assist.
You will be given a Hagerty goody bag on arrival. Within this pack there will be a registration and a information card, please fill them both in and place the information card on your vehicle for our for our spectators convenience and drop your registration card into the information tent* on the Market Square.
PLEASE NOTE To take advantage of your reservation we request you arrive at the Market Square between 9.30am and 10.30am, after this time we may have to release unused spaces to our drive up and display visitors. SEE GUIDE BELOW.
---
TRAILERS
If you are bringing a vehicle on a trailer, please get in touch ([email protected]) as an early arrival is strongly recommend (pre 9:30). We do have an off-site trailer park, although there are other car parks in the town.
---
CLUBS
If you represent an enthusiast group or car club, please get in touch so we can 'try' and allocate you spaces together ([email protected]).
---
SECURITY
Finally, (we've never had an issue but) as with all open and public spaces, the public could well put in an appearance, they usually do at some point, so it makes sense to keep an eye on your vehicle and possessions, as the team cannot be held liable or responsible for any claim. Thanks for your co-operation and understanding.
We look forward to seeing you all there on the day!
Awards
This year they will be in the following categories:
Best of Show
The Best of British
Best Saloon
Best Sports car
Best Motorcycle
Best Restored Motorcycle
Spirit of the Show
The presentations will be at 2.30pm in the Market Square
---